Dear parishioners, for the last two weeks I took a week to travel to two generous parishioners who let me stay in getaway locations for reflection as I prepared to travel far abroad. As of now, it was a very good beginning here in Rome, regardless of the adjustment of the internal clock to sleep and normal body functions. I guess it may take to a week as I remember from times past to get a normal sleep rhythm and be present at all times while awake. I safely arrived to the Fiumicino "Leonardo Da Vinci" Airport right before scheduled 9:10 am time on Monday morning of the 15th of this month. There were other couple of priests there in the airport but I could not connect with them during the flight. I started my traveling journey on Sunday Morning as a very generous parishioner took me to the airport for my flight to Philadelphia. In Philadelphia I was able to prepare for the longer flight of 8 hours to Rome.
I am very grateful for all the priests that I have already met here at the North American College. There are thirty-two of us in the program from all over the globe, a Franciscan Friar, San Jose CA, Salina KS, Sacramento CA, there are 2 of us From Chicago; Fr. Bronislaw Chmiel from St. Pancratius and me of course, Toronto and Vancouver Canada, 3-San Francisco CA Priests, Melbourne Australia, Toledo OH, Lacrosse WI, 2-Brooklyn NY Priests, Military Ordinariate of Canada, Cleveland OH, a Marianist Priest, Owensboro KY, New Ark NY, Sydney Australia, New York NY, a St. Augustine Priest, St. Jose CA, a Divine Word Society Priest, an Order of Preachers Priests (Order of St. Dominic), Green Bay WI, Sioux Fallls SD, Metuchen NJ, Atlanta GA, and Canberra-Goulburn Australia. We all are already engaging the program that began yesterday Monday with the welcoming, lunch at the Refectory with our North American Students preparing for priesthood studying in Rome, (they were very welcoming to us), then Mass at six pm followed by socializing and dinner with more socializing (there is never enough socializing for these gatherings). One thing very particular and meaningful to me was at Holy Mass. This is my first mass where we were all concelebrating, not a lay or non-ordained soul in the chapel. It was unique. What was very meaningful was the praying for all of you during the Holy Mass. It was very moving as we place the Holy Sacrifice of Mass in God's hands and mercies to bring about the graces to be received by our poor souls. Very moving. And this is a good start that we have during this time as we begin this journey together, to pray for all of you and to hold each other in this same purpose of prayer. Something that still catches the attention of my spirit is the goodness of St. Bartholomew's people who have been very supportive of me and of the mission of the community to bring people together under the mercy of God. A good reminder for me is the impression of my stole up on the high main altar on the right side of St. Bartholomew statue. It is my connection with all of you and a good reminder to myself to take good and intense purpose to renew my spirit in the Lord and my priesthood for the service of others and hopefully that God may grant me wisdom that I probably run short so many times in my pastorate. With a humble disposition and willingness to give my best and not my worst, I remain sincerely and truly yours. Please pray for me the days, weeks, and months ahead so that God may continue to work wonders, if possible in our lives and through our willing spirits all for God's Glory. I have missed you all from day one! Amen.
January 19, 2018
the pontifical north American college
January 24, 2018
vatican library & papal audience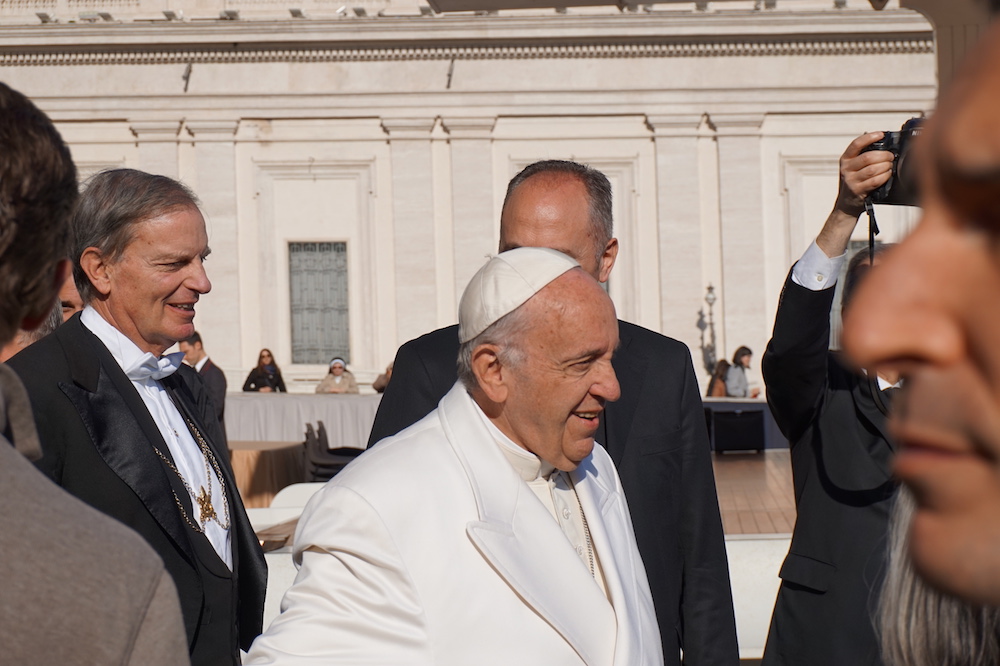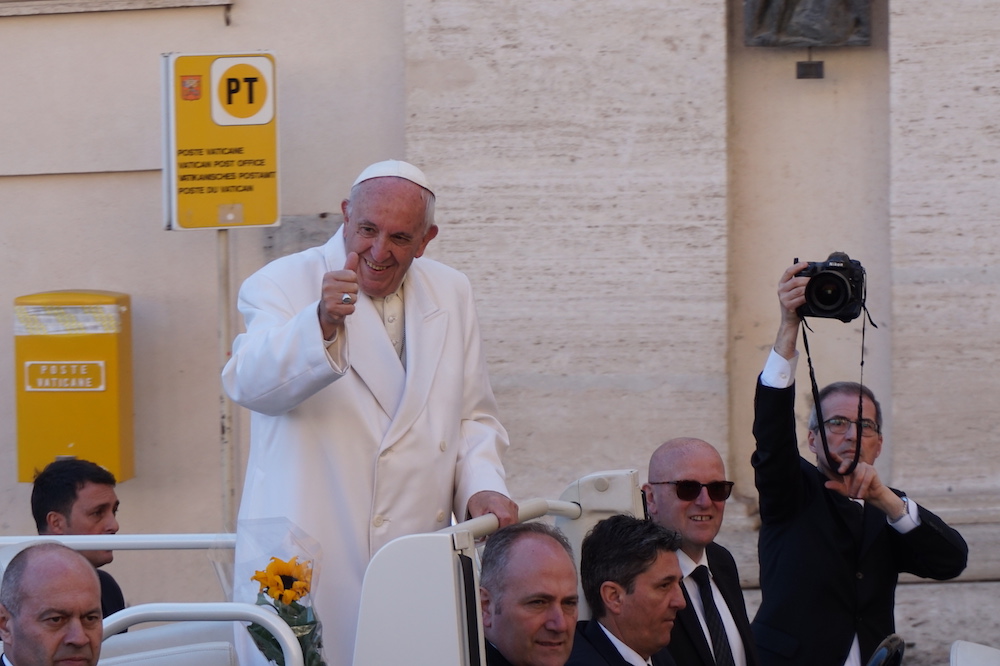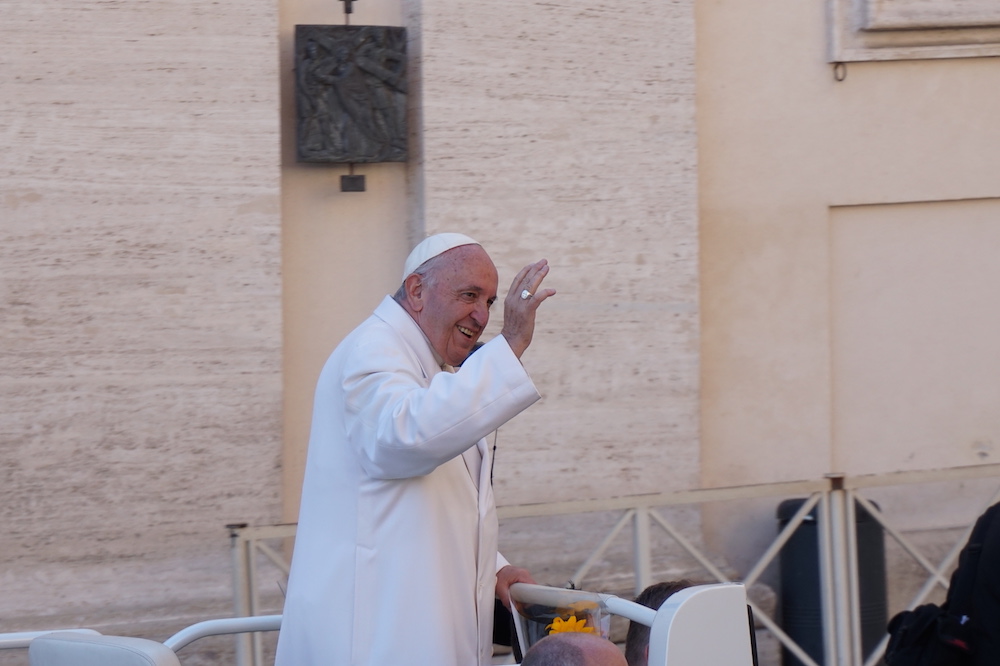 January 28, 2018
Florence and Rome
Well this past week I had a week of catching up with jet lag and I asked the other priests in the program about adjusting their sleeping patterns, to which they responded they had similar experiences for not being able to adjust. We had this past week structured classes and extended hours in the classroom about ethics and morals in the modern world along with the ecumenical class and Pope Francis' take on that. A very special mass we celebrated and concelebrated at Santa Maria Maggiore, which is one of the four most important in Rome. The beautiful chapel itself is as big as St. Bartholomew and overly ornamented with so much marble and beauty. The main celebrant, Fr. Jungsoo Kim, was gracious to celebrate it and at the end of mass we had this great, wise and intelligent tour guide who spent time enough with us to walk with us and remind us of the rich history of this beautiful place.
Fr. Peter (a hospital chaplain), Mnsgr. Barry and I spent two days in Florence, which is 2 hours north of Rome. We left Friday and returned Saturday evening to Rome. Florence is a beautiful city that has the Florentine art, especially in the architecture of the Duomo or Basilica of Our Lady of Fiore (flower) covered with green and white beautiful stone. Two of us climbed up 460 steps to the dome, and it was such a beautiful view from up there. From there you are able to see the whole city of Florence and beyond. This Basilica has two other separate buildings, which are the Baptistery and the tower as high as the church itself; tourists are also able to climb the tower. Supposedly, the beautiful baptistery was used to baptize and then move on people into the church as full members of the body of Christ. The tower is a tall building that stands by itself and serves as a beautiful balance for the aesthetics of the church. On Wednesday we had the general audience with the Pope and got to take some pictures.
Now this week in perspective will be busy during the day with classes and a couple of tours, one of them is the visit to the Basilica of Saint Peter and have the grand tour of it. This week will be over-toned by the Bible in the classroom as we continue to appreciate the many and various praying forms, teaching and preaching styles. This week will be concluded on Friday with a tour at the Capitoline Museum.
Thank you everyone very much for your continuous prayers and dedication to good works. I have been praying for you as well.
Fr. Ric
January 30, 2018
The Vatican at night
The boys with me, and the Vatican on a cold winter night,……well…..cool winter night.